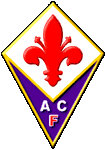 PROFILE
Date Of Birth: December, 29th, 1970.
Place: Genova, Italy
Height: 176 cm
Weight: 70 Kg
Zodiac: Capricorn
Nickname: -
Marital Status: Married with Francesca has a son and a daughter
Team: AC Fiorentina - Italy

PERSONAL'S DROPS
Hobby: stay with his family and play tennis
Soccer Idol: Pelé
Quality: he's very calm


CHIESA...

* made his debut with Italia National Team in 1996 vs Belgium in Cremona, a city in which he felt very well when he played in Cremonese, whom he saved of the lose of category scoring 14 goals.
* has a very powerful shot with both legs.
* admires the coach Gigi Simoni because helped him to improve his technical quality and being a better player.
* Zola said that Chiesa is similar to the best Careca.
* said one day, that the team of his heart is the ACMilan.
* describes himself as a calm man and a calm husband, it's the thing he most cares about.
* the thing that most impressed him at Florence is the enthusiasm of the people, the enthusiasm around and inside Fiorentina.
* since he was a young boy , Enrico always worked hard with the objective to play football in his mind and in his heart.
* never practised any other sports, just football since he was 10 years old.
* guarantees that feels a bit homesick.
* when he and Francesca were very young at Genova ( both's hometown ), they met themselves on holidays and usually frequented a place called 'Agneto'.
* always tries to transmit serenity to his son Federico and also to his whole family.
* always teach his son to respect the other people.
* cares a lot about his privacy, specially about his family and affirms that it's his top priority.
* always faced the success in a serene way, with no excesses. He knows that it is part of his job.
* if he wasn't a football player, he doesn't know what he would be. He never thought about it because play football was the only thing he wanted to do.
* still doesn't know what will do after leaves soccer. Chiesa says that it's not a problem that worries him at the moment.
* his dream as football player is to win more and more.
* his dream as man is to stay exactly the way he is. He consider himself really lucky and happy.
* one of his secrets is always to think simply and not regard himself as a star just as a footballer. That's the only way for him to continue.