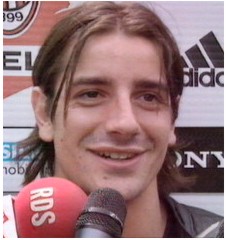 PROFILE
Date Of Birth: January, 8, 1977.
Place: Catania - Italy
Height: 181 cm
Weight: 78 Kg
Zodiac: capricorn
Nickname: -
Marital Status: Single
Team: Barcelona - Spain

PERSONAL'S DROPS
Shoes: 43 (Europe)
Actor: Brad Pitt
Actress: Michelle Pfeiffer
Movie: "Meet Joe Black" with Brad Pitt
TV Program: Ciao Darwin
Singer: Jim Morrison and Rick Martin
Song: "Riders On The Storm" - The Doors
Soccer Idol: Diego Maradona and Paolo Maldini
Car: Jaguar
Hobby: ...Women!
Vacation Spot: Los Angeles
Quality: to be a proud man
Defect: to be very impulsive
Favorite Dish: Pasta with garlic-oil and chili peppers
Lucky Number: 3


COCO...

* in School liked to study Italian.
* Would like to have dinner with Renato Zero and Jennifer Lopez.
* likes to watch "Queli Che il Calcio"- his favorite TV soccer program, in RAI2, Italy.
* Bets his money on the Ferrari Racing Team.
* Listens Musics a lot, in any place: car, home, Milan concentration...and always to the full volume!! which makes him feel better...
* Concentrates before a Match listening "Riders On The Storm"
* In his free Time plays Tennis, Watches movies...
* Plays a bit of the piano, that he learned with an ex girlfriend
* has a Nokia cellular
* loves dogs
* Would be a hitchhiker, if be hadn't a been a footballer
* Is impulsive and consider this a big flaw - but, as a merity, he says that he is very determined
* has a Kitchen almost professional in Home, and he really likes cooking 4 friends. As good Sicilian, his specialty is Pasta with aubergines, his grandma recipe.
* Loves mediterranean Cuisine...and know that all these dishes makes people fat...
* likes so much to contact with... prostitutes from hotel, according a journalist from a magazine about soccer.
* Is a man who lives for the Day.