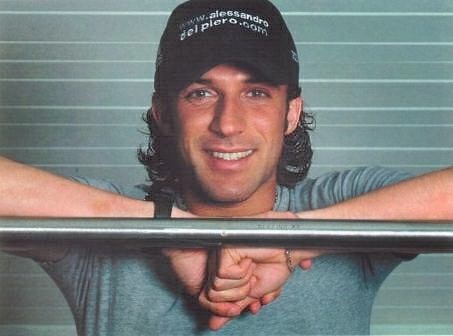 PROFILE
Date Of Birth: november, 9, 1974
Place: Conegliano, Treviso - Italy
Height: 173 cm
Weight: 73 Kg
Zodiac: Scorpio
Nickname: Alex, Pinturicchio
Marital Status: Single, with a girlfriend, Sonia Amoruso
Team: Juventus - Italy
Official Website: www.alessandrodelpiero.com

PERSONAL'S DROPS
Movie: 'As Good As It Gets' with Jack Nicholson
Actor: Michael Douglas
Actress: Sharon Stone, Demi Moore, Ornella Mutti, Julia Ormond
Singer: U2, M. Jackson, Phil Collins, Will Smith
Song: " I still havent found what Im looking for", "Where the streets have no name", "With or without you" , the soundtracks of "The Full Monty" and "Men In Black", opera
Soccer Idols: Platini, Maradona, Zico, Van Basten, Paolo Rossi
Car: his Lancia Delta Integrale
Hobby: Listening musics, driving his car, watching movies, dancing
Favorite Dish: coffee, Italian cuisine - pasta and pizza, Coke


DEL PIERO...

* likes, beyond football, basket, tennis, golf and swimming
* has a brother more older, and a adopted sister
* prefers the sea to the montains
* still drivers a blue Lancia Delta Integrale, buying 4 him with his first salaries...
* likes dancin'2 much. He has taken ballroom dancing classes with his soccer friend, Angelo di Livio
* has a degree in accountaney, but he's done above all 4 his parents, as his love 4 football has always been stronger
* usually listens U2 more travelling than at home. The Irish Band is his sound track when he drives or play away. In fact, Alex never go anywhere without them. The U2 "Joshua Tree" Album is number one in his personal parade. Songs like "I still havent found what Im looking for", "Where the streets have no name", "With or without you", leaves him moved
*"When likes a girl doesn't just see if she has beautiful eyes or a nice behind. There must be that 'something'".
* frequently eats at restaurants, but sometimes he invites friends at home and cooks himself.
* believes that the players result in match isn't only the result of the practices: food, sex, women, dancin'nights, wifes and kids... everything influences in the player performance 4 that he gives his best in field, but he can also find it by himself
* doesn't have in mind a perfect woman and thinks that maybe it doesn't exist. For him the most important is if a girl will give him and true feelings.