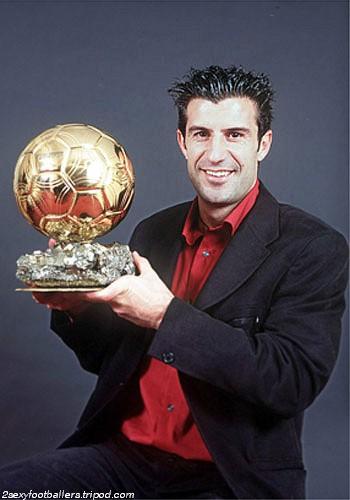 PROFILE
Date Of Birth: November, 4, 1972.
Place: Almada - Portugal
Height: 180 cm
Weight: 75 Kg
Zodiac: Scorpio
Nickname: -
Marital Status: Married with Helen , has a daughter, Daniela
Team: Real Madrid - Spain

PERSONAL'S DROPS
Actor: Michael Douglas and Dustin Hoffman
Actress: Michelle Pfeiffer and Carré Otis
Hobby: go to the beach, to the theater, to the movies
Favorite Dish: Chicken fried and rice with duck
Book: best sellers


FIGO...

* was a blond and cute baby
* was born in a modest family. Figo is the only son of Antonio and Maria Joana. His parents always work for give him the best. His mom was seamstress and his father had a bussiness near their house.
* was a good student, specially in mathematics, but he must leaves the study because of his soccer career
* if wasn't a soccer player, would like to be psychologist.
* speaks 4 languages: portuguese, english, spanishand a little of swedish
* recognizes that the education received by his parents was very important to him. Principally because they understand when he chooses the soccer career, leaving his home - in Cova da Piedade - with 11 years old for trainnings in Lisboa, at night, with friends, for in day after, early to be in school. Everything was possible because his parents to trusted him.
* loves movies, likes comedies and action films.
* likes to eat almost everything but fried things. Good meat, fish, sushi.... since it doesn't have beans or onion
* doesn't like alcoholic drinks. Prefers coke, milk or water.
* likes Dulce Pontes or Madredeus bacause they have similar styles of music.
* is a man with conscience about the social problems. He hates drugs and war.
* guarantees that one of his soccer dreams is one day to play in English Premier League.
* if he had to name one like the best European player in the world, he would says Rui Costa.
* says that the best player that have played with him was Ronaldo.
* wants finish his career playing in his nation, Portugal
* hates when someone says that he works for money. Figo guarantees that he is human and has feelings, woks with his feet, his head and his heart ... and consequently is not because money. For him, money only serves for pay what have to be payed.
* likes to surf in the web.
* guarantees that there's no special meaning behind the chain that he wears - it's just a present from a good friend
* tries and plays golf.
* wants to have his proper hotel, in the future.
* applies his money in real estate, restoration and fashion investments, in Portugal and Spain. In Portugal has a shop, Guess, that visit always that he goes to the Lisbon. Figo has a partner ( the representative in Europe of the Guess mark)
* says that the portuguese women are very pretty.
* knew his wife, the swedish Helen, in Barcelona, by friends intermediate, in Joaquim Cortez Show.
* likes F 1 a lot - especially Michael Schumacher.
* doesn't think that his popularity is a troublesome thing since the people not disrespect him, because he is very careful with his privacity. He gives autographs and photographs with his fans without problems.
* guarantees that he hasn't any problem in talk about the bad things of his life. He thinks that when people made a mistake, they have to assume their errors.