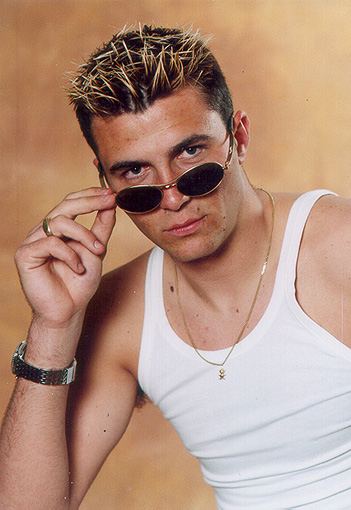 PROFILE
Date Of Birth: March, 18, 1980.
Place: Thonon les Bains - France
Height: 189 cm
Weight: 85 Kg
Zodiac: Pisces
Nickname: Silver Fox
Marital Status: Single
Team: AC PArma - Italy
Official Website: www.freysebastien.it

PERSONAL'S DROPS
TV Program: South Park
Actor: Bruce Willis
Actress: Michelle Pfeiffer
Movie: Action and Comedy movies
Drink: Coke
Favorite dish: Tortellini di Parma
Perfume: Acqua di Giņ (at summer) and Angel (at winter)
Singer: Queen
Music: anyone by Queen and eletronic music Soccer Idol: Dino Zoff
Car: a yellow Lamborghini Diablo and Mini Cooper
Hobby: his dogs, music, TV and travels
Quality: to be happy and funny


FREY...

* says that he was born goalkeeper, thanks to his father, who played in the same position in French clubs as nantes and Marseille.
* is single, although all the rumors about he was married with a girl called Julie, in 1998
* loves to be with his dogs ( called Ocean and Pumba ). He's always with these same dogs and tries take them with him where he goes
* gnaws his nails
* said, joking, that if he was not a football player, perhaps he was in the middle of the road... The truth is that Sebastien always thought about being professional football player
* seems a born Italian, because he speaks the italian language fluently
* loves to going out for eat
* uses to watch movies in home, therefore he has an equipment of cinema in his home, with giant screen and stereo sound. But he also likes to go to the movies
* likes a lot of comedy and action movies and rarely watches French movies
* judges himself a little crazy, and thinks that all the goalkeepers are little crazy too
* likes his hair and choses this style with his hairdresser, Rolling Elisei, for the launching of a personal line of products
* guarantees that the girls also like his hair
* says that the girls runs a little behind him...
* always surf in the web for fun and satisfaction of his interests
* decided to create a site as a way to be next to his fans and also to become known for who don't know him. He guarantees that tries to answer all the letters and e-mails that he receives
* despite his position at soccer be goalkeeper, Frey scored 3 times in his career in the time that he played for the Cannes youth team
* doesn't think about marriage because he thinks that is too early to this
* likes disco musics, those that are in top between the young people. He thinks that his musical taste isn't very fine
* says that already received strangers proposals from girls. One of them gave an engagement ring to him, and other, in Verona, gave to him her lingerie.


Special Thanks to Lilla :D