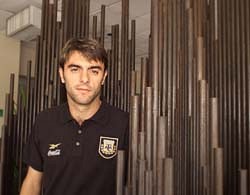 PROFILE
Date Of Birth: July, 17, 1974.
Place: Rio Tercero, Cordoba - Argentina
Height: 178 cm
Weight: 77 Kg
Zodiac: Cancer
Nickname: Piojo, Beep-beep
Marital Status: Single, with a fiancee, Ximena
Team: SS Lazio - Italy

PERSONAL'S DROPS
Movie: "Full Monty&quot
TV Program: Entertainment TV show. He likes to see people happy, winning money
Book: "The Alchmist"
Song: Anyone of Phil Collins
Soccer Idol: Diego Maradona and Mario Kempes
Favorite Dish:Paella and barbecue
Lucky Number: 7
Color: Black

PIOJO...

* was nicknamed "El Piojo" (the louse) in childhood, because of his physical debilities and also for the fact of being extremely quick
* thinks that the best advice is anyone from his father
* assumes: he cried sometimes watching very dramatic movies
* ask 4 an autograph to Michael Jordan and Schumacher
* lost a tooth, striked with a beer tin by a delinquent fan, when he was leaving the field
* likes entertainment TV programs, because he likes to see the people happy, winning money
* had doubt between the soccer or basket career
* begans in sport, thanks to his mother, because he was a slender and sick boy. He practised basket, swimming and soccer
* knew Verón in 1990 when la Brujita played in the sixth division of Estudiantes de la Plata. Piojo was thin guy with long hair and was new in the club.The Both played together during 6 months, with Juan Ramón Verón ( Brujita's dad), as the trainer, after this time López goes to Racing Club.
* arrived at the Mestalla, Valencia CF Stadium , with 21 and not of far his seemed the footballer of today: he was precipitated with the ball and he didn't possess good aiming
* although very quick, out of field, he doesn't run for nothing!
* doesn't like to speak about his private life
* is only son and loves to be cherished by his family. In these terms,he demands exclusiveness...
* is considered by the press as a person who has abrupt treatment, verbal discussion and arrogant position , but on the other hand, the same press guarantees that he is very professional in his gestures and attitudes
* is close friend of Gaizka Mendieta.