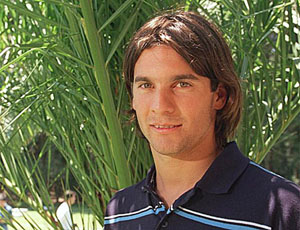 PROFILE
Date Of Birth: October, 7, 1976.
Place: Rosario - Argentine
Height: 180 cm
Weight: 75 Kg
Zodiac: libra
Nickname: "Indiecito", "Principito"
Marital Status: single, with a fiancee, Celina.
Team: Real Madrid - Spain


PERSONAL'S DROPS
Movie: "Dead Poets Society", "La vita é Bella"...In fact, he likes all kind of movies
Book: likes to read Gabriel García Marques and Mario Benedetti
Singer: The Rolling, Charly Garcia, Los Piojos, Redonditos de Ricota, Degradé
Song: likes all kinds of music, like hip hop...
Socer Idols: Fernando Redondo and Enzo Francescoli
Hobby: Watch movies, to read and being with friends
Vacation Spot: stays part of his vacations in Argentine
Favorite Dish: barbecue

Thanks to Anne and all "Indiecitas" of Yahoo! Club "Santiaguito Solari"

SANTI SOLARI...

* has 3 brothers and a sister: Martin Miguel, Esteban Andres, Liz Maria and David.
* was nicknamed "El indiecito " (The little indian) in a homage to his uncle Jorge " el Indian " Solari, soccer trainer
* when was child, he was moved with the film " ET " . He assumes that is a movie lover
* says that he sings very badly and that he doesn't know to dance tango, that he thinks to be a very difficult dance.
* thinks that to record a music would be an amused experience ... but only for who sings and not for who listening...
* is professor of physical education
* doesn't like to drink Mate (argentinean Tea), different the majority of the Argentines
* guarantees that all Argentine worthy knows to make a very good barbecue, and of course, also he knows it
* thinks that, with exception of the barbecue, the spanish food is better than the Argentines
* guarantees that he would die without the soccer in his life. For this reason, he is tottaly determined to follow a career in sport until when he stops to play.
* thinks that Aimar is the best Argentine player in the present time
* cut his hair in an impulse, because he was with heat
* confesses that almost he is not recognized himself since that changed his look, cutting his hair, in the end of May 2001.
* uses the Internet more to read Argentine periodicals, to get information... but also uses the ICQ, where he has a list of friends. He likes to participate of chat with people who know.
* when comes across a hysteric fan, he enters in his car, closes the door and puts a music in the last volume and been frightened
* gave the following reply to one fan who asked to him " What to do 4 to be perceived by a girl? ": " Wear a fluorescent color shirt " ...
* admits that he is a disaster playing tennis
* passes half of the vacations in Argentina, with his family, and to another half... he keeps in secret
* likes volleyball and of all the aquatic sports
* admires the projects of Greenpeace.
* would like that when he becomes father in the future, one of his kids follow the soccer career
* doens't watch much TV and he doesn't own cable TV
* doesn't has preferences in hour to choose clothes, the only demand that he has is that the clothes are comfortable
* almost never dances
* divides the room in Real Madrid with Steve MacManaman
* has as slogan: perseverance + patience + presence + strong ideal
* is a standart football player, because he goes to all Real Madrid trains, even when is his leisure...
* his father trained at Tenerife Club , when Redondo ( that time still playing for that club ) learned to know Solari's cousin and got married with her later. So Solari and Redondo are related and they often chat with each other.
* was operated in the nose, therefore he suffered with respiratory problems has years. He decided to operate because all the previous treatments that he made, had failed. He guarantees that these respiratory problems didn't allow him to sleep and nor to rest adequately, what reflect a lot in his behaviour as player.