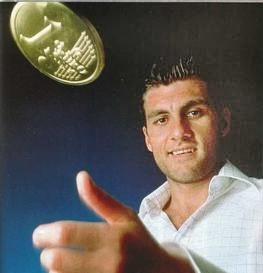 PROFILE
Date Of Birth: July, 12, 1973.
Place: Bologna - Italy
Height: 185 cm
Weight: 82 Kg
Zodiac: Cancer
Nickname: Bobo, in reference with his father, Bob
Marital Status: Single with a girlfriend Elisabetta Canalis
Team: Inter Milan - Italy
Official Website: www.christianvieri.it

PERSONAL'S DROPS
Shoe: 45 ( europe )
Actor: Sylvester Stallone
Actress: Julia Roberts - Would like to make a movie with her!!!
Singer: Foreign-Whitney Houston e Michael Jackson, Italian-Ligabue e Jovanotti
TV Program: Mai Dire Gol
Soccer Idol: Gianluca Vialli
Vacation Spot: Sydney
Hobby: Movies, NBA Basket and Cricket
Car: Ferrari 550 Maranello e Mercedes CL 500 and Ducati Monster 750 motto
Favorite Dish: Lasagne, Soup and trimmings
Lucky Number: 3
Color: red


BOBO VIERI...

* was incentived to enter in Soccer by his grandfather, Enzo Vieri, but developed an interest in soccer with his father influence, which was footballer
* moved to Australia when was 3 years old, when his father played
* likes cricket a lot, and one of his idols is Allan Border. Bobo used to bat left-handed at cricket and preferred to bat rather than bowl
* can speaks fluent english
* when was child was nicknamed "the monster" because his headstrong nature.
* is very close to his family and has a french mother and italian father,a younger brother, Massimiliano and a younger sister, Veronica. Vieri often calls his mother, Natalie, by "Natalina."
* said that if he made pair of attack with Pippo Inzaghi, they would have shared an apartment.
* prefers wear sporting clothes
* was roommate of Cristian Brocchi, in Inter Milan and in Italian National Team, his roommate is Pippo Inzaghi.
* has a dream: win the UEFA Champions League
* if goes to a desert island, he would take with him his...girlfriend!